Coronavirus
We are excited to announce South Shore Dental will begin to reopen next week.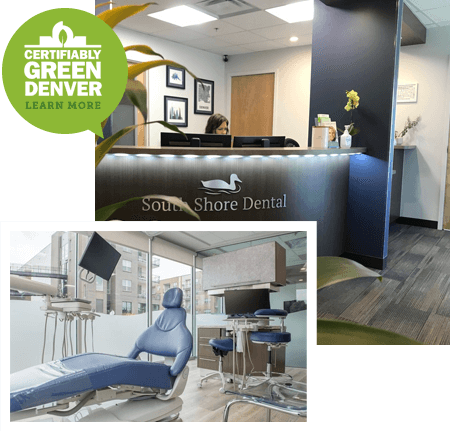 While we won't have spots marked 6 feet apart on the ground, there won't be a return to normal until there is more testing, better treatment, and/or a vaccine. But together we will navigate these crazy times.
We have been busy incorporating the various guidances from the CDC, the ADA, OSHA, and state and local government, to provide the safest care for you and the safest work environment for our team.
First, we will be adjusting schedules and offering pre-hours to our most vulnerable patients (folks over 65 or folks with riskier health conditions).
In addition to routine disinfection, we are constantly modifying how we operate to minimize risk of virus transmission among everyone who comes through our doors. Sadly, many routine procedures must continue to be delayed for now.
Our new protocols will include:
Check-in by Telephone – Pull up to office and call from your car or outside bench to check-in.
COVID Screening– An escort will come take your temperature, and then escort you directly to the dentalchair.
No therapy animals – sadly, the pups will stay away for now.
PPE – We'll be using the additional recommended safety equipment.
As the situation and knowledge of the virus change, we will continue to adapt and inform you what to expect for your future dental visits. But what won't change is our dedication to your healthy smile. South Shore Dental team!

Visit Our Facebook Page For The Latest Updates

Colorado has confirmed cases of Covid-19 (infections of SARS-CoV-2, the coronavirus). We are vigilantly monitoring the best practices and advice from health organizations in order to protect our patients, staff, and community. The following are some basics sourced from The World Health Organization (WHO), the CDC, the ADA, as well as information coming from researchers.
What is it?
A new respiratory disease broke out in China at the end of 2019. Originally the 'Novel' Corona Virus, the WHO has named the disease COVID-19 (Corona Virus Disease- 2019). It's a virus that is spread both person to person and object to person. We don't yet know how it is passed, but do know it is very contagious. Currently there is no vaccine to prevent infection.
The Colorado Department of Public Health is offers free testing.
Most cases are mild and involve similar regimen as the flu: rest, lots of fluids and fever reducers.
But this virus is not the flu. For some people it is more severe, and even fatal.
The more common initial symptoms are fever and a dry cough. Please call your physician or the department of health before heading to their office. They will be able to give you more guidance from there. Colorado Health Department : 303-389-1687
What are we doing to protect you?
As healthcare providers, we observe OSHA's strict infection control procedures. Items used in your dental care are sterilized or disposed. Rooms and all their surfaces are cleaned between every single patient. Clinical staff also wear additional protective equipment including gloves, masks, and eye wear. We ask anyone experiencing a fever to reschedule. We are allowing only scheduled patients (not guests) into office as a social distancing measure. Lastly, we administer a preprocedural mouth rinse.
What we all need to be doing
Basic precautions include washing your hands with warm water and soap, including around every finger and under the nails for at least 20 seconds. Moisturize with hand lotion after washing to help support the barrier function of healthy skin.
Wipe down all surfaces regularly with disinfectant wipes. Think of every object you touch: your phone, door knob, elevator button, keyboard, chair, counter top, credit card, etc. The virus can remain contagious on surfaces for 3 days.
Avoid touching your face, scratching your nose, rubbing your eyes, or licking your finger to turn a page. Do your best to keep your hands off your face.
Direct your coughs and sneezes into your elbow (NOT your hand).
Get your flu shot if you haven't already.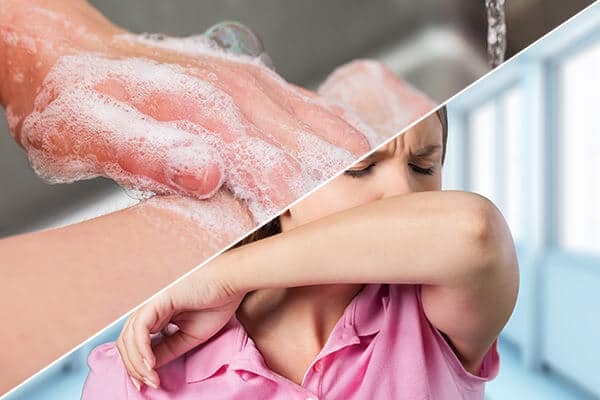 References