Dental Implants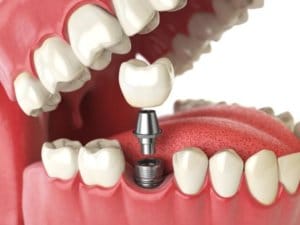 A Tooth Implant is an artificial tooth root that is placed in the jaw to support a replacement tooth or appliance. The implant is placed in the jawbone beneath the gums. Dental Implants are used for patients that may have lost a tooth due to injury or in other cases periodontal disease. These implants are designed to look, feel and function like a natural tooth.
When a tooth is irreparably damaged, it can cause a great deal of discomfort and embarrassment to the victim. The expert dentists at South Shore Dental can give you the relief you need, both from pain and embarrassment, with a high quality dental implant in Denver! While many people are unaware of implants as a dental solution, our dental implants are durable, and camouflage perfectly into any smile.
We know that dentist visits are not always the easier, or most comfortable, experience for some patients. That's why everything about our office is designed to help our patents relax. Everyone from our staff to our therapy dog, Roland, is trained in customer service, so that your dental experience is a pleasant as we can make it.
Implants As A Dental Solution
A dental implant is one of the most effective modern dental solutions for patients who have lost teeth. Our top-of-the-line technology can use 3d scanning and digital imaging to take x-rays from outside your mouth, for a more comfortable experience than traditional scanners. Once we have an accurate analysis of your mouth we will procure an implant custom made to fit your smile. Follow up procedures are performed to ensure that your implant feels as comfortable and natural as possible. Our Denver dentists are guaranteed to delight you with your new dental implant from South Shore Dental. Reach out to us today to schedule an appointment.

Dental implants can restore normalcy to your teeth, and bring the shine back to your smile. We only use the highest quality materials when restoring our implants, so that we can guarantee you will love your dental implants for years to come.
Call Denver's Implant Specialists
At South Shore Dental, we take great pride in serving the Denver metro area. We know that choosing a dentist to perform work on your mouth can be a difficult decision. Reach out to South Shore Dental today and speak to one of our qualified professionals about how we can help restore your smile to perfection, with dental implants!