Dental Bridges
Dental Bridges
A dental bridge is used to replace one or more missing teeth with lab-fabricated artificial teeth. These restorations allow you to correct "holes" in your smile and can literally bridge the gap between your remaining teeth. Replacing missing teeth can help to maintain the shape of your face as well as prevent further dental issues by keeping your remaining teeth in their correct alignment. Ask Dr. Bryant if a bridge is the right option for you!
Steps
1) Remove any decay
2) Fill in any holes or voids
3) Trim and shape tooth to allow space for crown
4) Upload virtual 3D model of teeth to local lab
5) Place temporary restoration until lab has completed new customized crown (or bridge).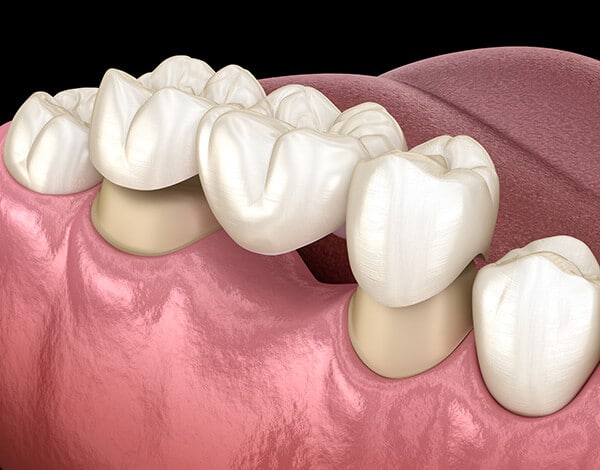 Gaps
When a patient comes in with missing teeth, we like to look at our options of replacing the gaps.  Gaps can be crucial when talking about someone's bite.  Teeth fit together like puzzle pieces. If a tooth doesn't have something to bite against it can drift out of alignment and change your bite.  Gaps between teeth can cause the remaining teeth to tip which would also cause a change in your bite.  These shifts and tips can have negative consequences. They may not look great in your mouth, but they can also change the appearance of your face. They can create spaces that are much harder to clean and even lead to cavities or gum disease in those areas. Excuse the dad joke, but "shift happens" and it can cause problems. While there are other options to replace "holes" or "gaps" such as implants or partials, bridges are a great option.
Dental Bridge Care
A bridge is meant to last a long time.  However, it may fail if it's not kept clean.  Just like flossing is essential for all of your teeth, flossing under and around your bridge is just as important.  In order to floss under your bridge, you will need floss threaders.  This will make it possible thread the floss through your bridge and clean from underneath.
The Process of Getting Dental Bridges
The bridge option typically includes two separate appointments – the first appointment is to prepare the teeth by removing decay, filling in any voids with bonding material, shaping the teeth for the bridge, and using 3D scans to send a virtual replica of your mouth to the lab. When leaving the first appointment, you will not go without a space holder!  We send you out with a temporary bridge placed with temporary cement.  Approximately two weeks later, when the lab has finished creating your bridge, you would have your second appointment to adjust and cement your new permanent bridge.
Digital Impressions
Our 3D scanner allows us to take virtual impressions. These digital impressions are more accurate, and less messy than the gooey materials used in the past.  The lab prints out 3D models of your mouth, which they use to create beautiful and strong crowns and bridges. Our trusted expert lab technicians have the ability to create high quality, strong, esthetic permanent prosthetic teeth specifically for your mouth.  We choose to use expert technicians instead of an in-house crown milling system.  We want to ensure you are happy with your smile. So, for front teeth we'll schedule one extra step where you can visit the lab and have the technician perform a custom tooth color match.
After finalizing your dental procedure, the new bridge may seem slightly foreign.  After taking some time getting used to your new bridge, and no gap, it should feel and function like a regular teeth.  If you have any questions regarding your procedure, please do not hesitate to reach out!